All of us can admit to sending and receiving some sexy snaps recently, right?! Well, guess what, this is another instance where celebrities are just like us ordinary folks. They take hot snaps, too! Snapchat is one of the biggest picture and video sharing apps in the universe, so celebrities are taking advantage and are using it as an outlet to get attention and please their fans. This typically means showing off their goods! Everyone from Kylie Jenner to Chrissy Teigen take sexy Snapchats, and today we've collected the ultimate hottest for you to enjoy.

1. Kylie Jenner.




Kylie Jenner is one of the hottest celebrities right now and is arguably one of the hotter sisters of the Jenner/Kardashian clan. Kylie has created quite a following on her Snapchat account- she has over 10 million followers on there! So how does she keep her fans entertained? With sexy snaps of course. The pic above shows off Kylie's impeccable makeup, and, of course, those famous sultry lips. And of course, let's be real here, her bosom is pretty hard to ignore. We give Kylie a 10/10 here.

2. Emily Ratajkowski.




Emily Ratajkowski is one of the hottest actresses/ models out there right now, and she clearly has the body to prove it. This 24-year-old hottie is gaining fame really fast right now, so she's also gaining a substantial following from a ton of fans. Emily flaunts her sexy and fit body on Snapchat for her followers to ogle over. Some might find this picture a little too much, but as the saying goes, if you've got it, flaunt it!

3. Bella Hadid.




Bella Hadid is a stunning brunette model who you might recognize because she dates the only and only The Weeknd. Her natural beauty is sultry and innocent at the same time- which is why she's driving so many guys wild since she's become famous. Bella posts sexy snaps on her Snapchat routinely, but we particularly liked this subtle one of her in the tub. Clearly we all know she's naked- but she leaves everything to the imagination- which is a nice change up! Her full lips and beautiful skin are enough to keep her fans happy.

4. Gigi Hadid.




Moving on to the blonde, more famous of the Hadid sisters- now we have Gigi! Gigi has had more success and attention thus far in the modeling world than her sister Bella. She even walked in Victoria's Secret Fashion Show in 2015- which was a huge breakthrough moment in her career. Gigi's stunning beauty, bright blue eyes, gorgeous long blonde hair and perfect physique would make even the most modest person's jaw drop. Gigi shows off her looks in a ton of sexy snaps, but this was our favorite because of it's candid fun instance.

5. Chrissy Teigen.




Chrissy Teigen is by far one of our favorite models/TV personalities because she is so funny, down to earth, and relatable. Of course, one thing we can't relate to Chrissy is her Sports Illustrated body, which she so effortlessly shows off in one of her many sexy snaps above. We don't know if it's her position, her Calvin Klein undies, or her stunning face that makes this snap so sexy and endearing at the same time. It's probably a combo of the three!

6. Justin Bieber.




Justin Bieber is no longer only for tweens and adolescent girls to fawn over - he's a grown, sexy man now, and we've all taken notice. Justin is not one to shy away from sexy snaps - so he regularly posts shirtless selfies on his Snapchat account. With his bad boy tattoos and toned abs, we surely don't have any complaints about what he's got going on.

7. Sara Jean Underwood.




Sara Jean Underwood might not be a name you recognize right off the bat- but once we say Playboy does it ring a bell? That's right, this blonde bombshell is famous for being Playmate of the year back in 2007, and since then she's been modeling. Her cute snapback combined with her body in this black bikini is one of her numerous sexy snaps that she posts for her fans on Snapchat.

8. Jennifer Lopez.




Jenny from the block will forever be one of the hottest celebs in the game, and her sexy snaps aren't an exception. JLO posts tons of snaps of her looking hot in whatever her outfit of the day is, which you can see here. Her derriere is second to none, and this tight floral two piece shows us exactly how amazing her bum is. Bravo, JLO, bravo!

9. Rihanna.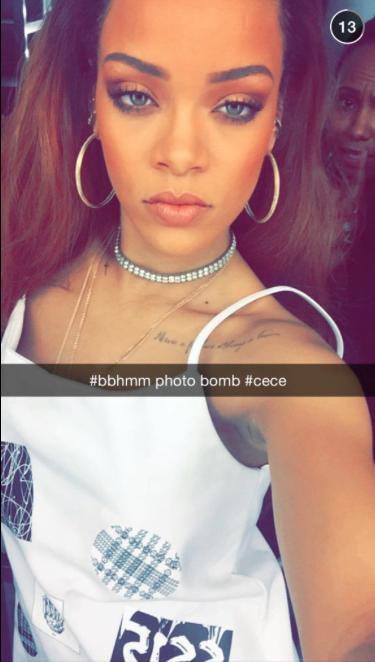 Rihanna needs no introduction; she has remained one of the sexiest artists out there since way back in 2007. Rihanna posts plenty of sexy snaps for her fans to enjoy, but we really like this one with those smoldering eyes of hers. Rihanna gets that you don't have to be nude to be sexy, she can ooze sex appeal with just a look! Which she proves in the sexy snap above.